Product Tracker Pro
Introducing the first touch screen TDR in the world
With one touch, save a waveform and have your customers back online in seconds. Diagnose the cable remotely in your truck or back at the office. With a multi-pulse waveform storage, you can work remotely just like you were live on the cable.
Test cable and work live, using Tracker Pro's intuitive interface & state of the art technology to more accurately diagnose & locate multiple events on a cable.
Or work remotely with Springbok's revolutionary new feature: Tracker Store. With one touch, Tracker Pro will cycle through each of its pulse widths, storing the full waveform regardless of what is on screen. This file can be recalled, displayed and studied on the instrument's screen or downloaded (via USB) to a PC. You can now display and manipulate the waveform using Tracker View, allowing you to work from the comfort of your truck or office.
Tracker View
Download saved waveforms from Tracker Jr, Tracker and Tracker Pro
Name and save waveforms
Make comments and notes
Change VOP
Vertical Gain and Range
Step through Pulse Widths
Move cursors
Measure distances and dBRL
Print waveforms and comments
TrackerView available for Windows, iOS, and Android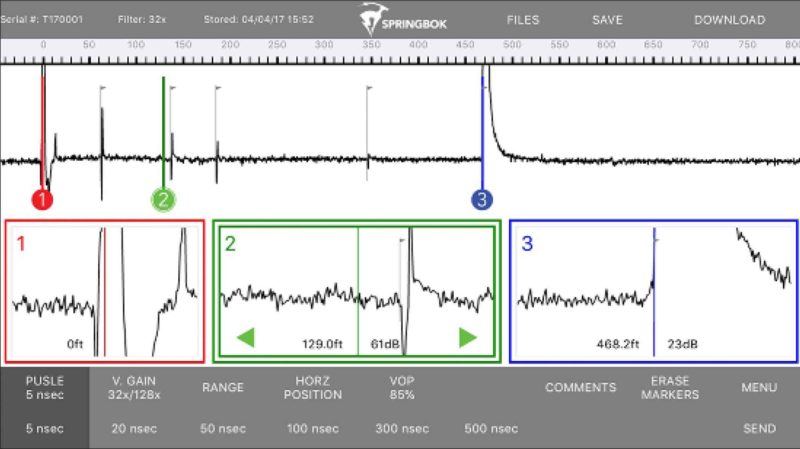 Technical specifications
7" LCD color touchscreen display (800 x 480)
60 multi-pulse waveform memory
Multiple marking and measurement cursors
Splashproof USB connection
Bluetooth 4.0
4200 mAh nickel-metal- hydride battery
14 bits
Dimensions:
9.12" x 7.56" x 4.37"

Pulse widths:
2 nsec, 5 nsec, 20 nsec, 50 nsec, 100 nsec, 500 nsec

Max cable length:
15,965.18 ft @ 85% VOP

Signal filtering:
1, 2, 4, 8, 16, 32, 64

Operating temperature:
0º C - 50º C (32º F - 122º F)

Storage temperature:
-20º C - 60º C (-4º F - 140º F)

Humidity:
95% maximum relative, non-condensing

Horizontal resolution:
0.1 foot

Vertical resolution:
14 bit analog to digital conversion

Distance accuracy:
0.44 feet @ 99% VOP, 0.38 feet @ 85% VOP, 0.18 feet @ 40% VOP

Input protection:

AC Power Filtering,
400 V (AC + DC)
from DC to 400 Hz
decreasing to 10 V
at 1 MHz